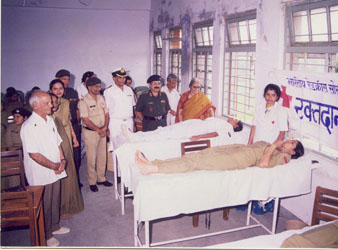 The Army wing of NCC has been functional in our institution, for the past 24 years and Naval wing NCC for the past 6 years. It has brought many laurels for the College.
Well dressed and smart cadets are always ready to serve the college and the nation, on all occasions. Every year, cadets are selected from the institution for the Republic Day parade held at Delhi on 26th of January.
Our cadets win medals in the Republic Day Parade.
Cadets participate in Thal Sena Camps, Nau Sena Camps, advanced Leadership Camps, combined Annual Training Camps, National Integration Camps etc.
Many cadets are selected in the youth Exchange Programmes. One of the Naval wing cadets visited Vietnam in the year 2002.
One of our cadets represented Independence Day Parade as company commander.
Our institution is the only institute in the city of Bhopal where Naval wing NCC is functional.
Naval cadets enthusiastically participate in various water sports i.e. boat pulling, sailing etc.
Majority of our cadets score A grade in the B & C certificate examinations held every year.
One of our cadets was selected for Mountaineering Expedition in the year 1999. She was the sole representative of the state. She scaled the Himalayan height ranging from 5840ft. to 15000ft. The expedition was organized by the Himalayan Mountaineering Institute, Darjeeling.
NCC organizes various social service camps i.e. blood donation, adult education etc.
NCC also organizes awareness programmes such as AIDS awareness, Cancer awareness, Tree plantation, Career guidance etc.
Activities in October 2014
1. The 35 NCC student of college participated in CATC III was organized from 28.10 1.4 to 06.11.14 at Dushehra Ground and got various awards.
Painting -1
Solo dance-1
Bucket ball -1
Group dance-1
Rangoli-3
Drill-2
Bucket ball-3

2. The NCC students of the college participated in rally of "RUN FOR UNITY".
3. 35 NCC cadets of the college participated in CATC III organized by "4 M.P.Girls Bn." from 09.10.14 to 18.10.14 at Dushehra Ground .Kumari Archana Naidu got second prize in the Speech competition and volley ball team.
4. NCC cadets participated in "हाथ चुलाई दिवस" on 15.10.14.
Activities in September 2014
1. In association with FPAI, NSS unit of the college organized a health check-up camp on 17.09.14 and selection for Pre-Republic Day Parade was also done at the collegiate level on the same day.
2. An activity of NSS and NCC, a lecture on 'Cyber Crime' was delivered by Additional SP Mr. Shailendra Singh Chouhan on 18.09.14.
3. On 23.09.14, NCC ANO Participated in NCC conference organized by 4 M.P. Girls Battalion.
Activities in August 2014
1. Smt. Sarita Kushwah, Sports Officer participated in NCC CATC I camp from 3.8.14 to 6.8.14 .
2. NCC cadets participated in an Awareness Rally on International Youth Day on 14.8.14. Parade was organized by NCC cadets on 15.8.14.
3. A lecture on importance of Blood Donation and Awareness was organized by the Red Cross Society and NSS on 11.8.14 Shri Jafri delivered a lecture.
4. A blood donation camp was organized by the Red Cross Society in association with NSS Wing of the college on 13.8.14. 13 Units of blood was donated by the teachers as well as students.
Activities in July 2014
1. Tree plantation program was organized by NSS, Alumnae Association, Environment cell and NCC on 24.7.14. Various medicinal plants were also lanted.
2. NCC commanding officer Col. R.K. Goyal and Adam. Officer Capt. Arundhati patel were present on the occasion. Col. Goyal conducted NCC Orientation Program.
3. Registration of the students for NCC was also done on the same day.