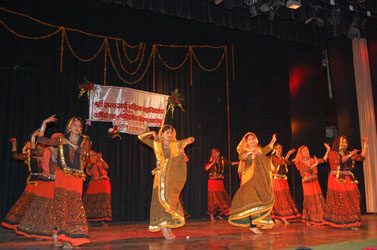 In today's world, an all-round development of personality is indispensable. The college organizes a number of cultural activities. This helps the teachers to discover the hidden talents in the students.
The college organizes creative competitions like greeting cards, mehandi, salad, fancy dress, kalash, hair style, embroidery, flower decoration, rangoli, group dance, solo dance competitions etc., Some competitions like extempore, essay, debate, quiz, group discussion based on intelligence, memory and general knowledge are also organized. Literary competitions such as Bhaktipath, creative writing and literary antakshari are also a part of the cultural celebration.
The students, who secure 1st and 2nd positions in the collegiate competitions, are encouraged to participate in the Inter-Collegiate, District/State level competitions. Many students of our college have won prizes in Inter-collegiate and District level competitions.
The college maintains a complete record of all competitions and encourages the deserving students to show their talent in the college activities also.