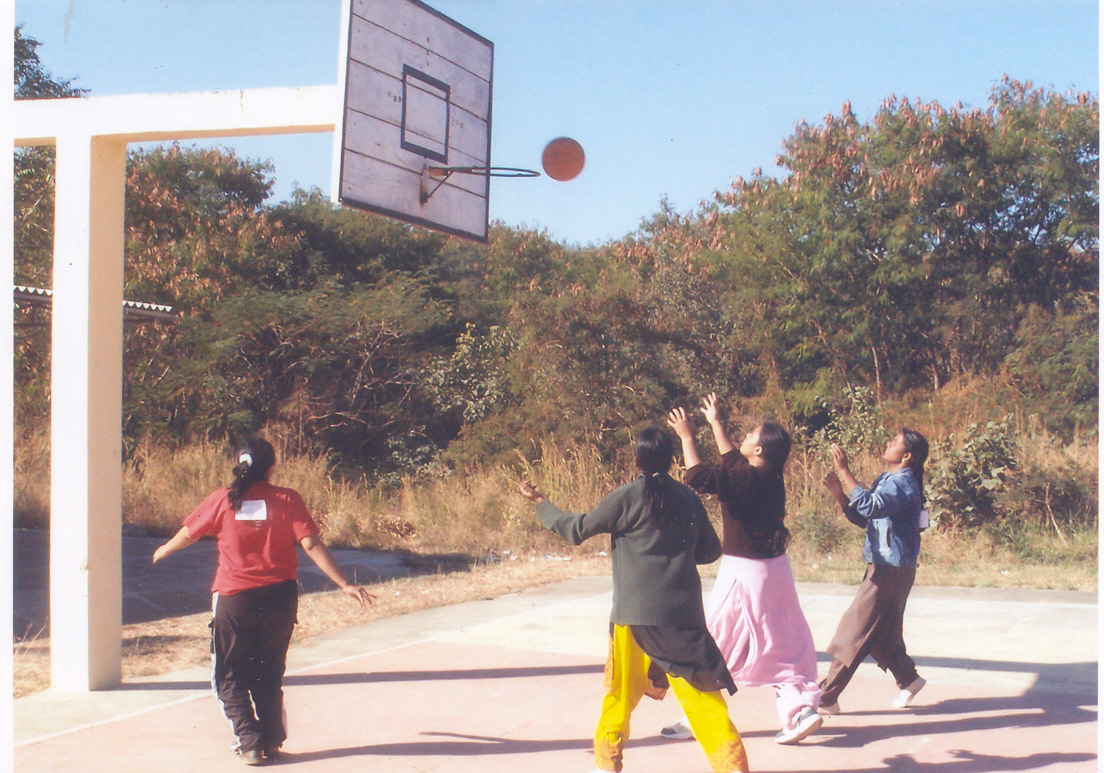 Physical Education helps to improve the physical, social and mental development of the students. The students can also make their career in sports, by participating in various tournaments at District Level, State Level and University Level. The deserving students can also make a mark in the National scenario.
Since its establishment, Sri Sathya Sai College for Women, Bhopal, has been running a separate Sports Department. The UGC also provides us grant for sports equipments. Every year, we organize sports tournament to promote sports in our college. The girls participate actively in these tournaments.
The college committee extends support to the students participating at District and University Level sports. Some of our students have made it to the National level also. Our college also provides T.A., D.A., etc., to its students. The Sports Officer also provides regular practice to the students.
The college has a Basket Ball ground, Throw Ball, Volley Ball and Badminton ground. It also has a separate room for indoor games like table-tennis and chess.
The students and teachers also show immense interest in Yoga. Thus the college has also started Yoga Classes for students and teachers. The students show their increasing interest in Sports day-by-day.
We hope to produce good sports persons/sports students in future also.
Activities in October 2014
1. Students of the college participated in the District level kabaddi competition organized at Govt. Geetanjali College. Ku. Diksha Chouhan of B.A. III sem was selected at divisional level and played at Hoshagabad.
2. Students of the college participated in the District level kho-kho competition organized at Barkatullah university. Ku.Mahima Patidar of B.Sc. I sem. was selected at divisional level and played at Ganjbasouda.
3. Mrs.Sarita Kushwah was selected as member of selection committee of district level kho-kho tournament and and as team manager on divisional level.
4. Students of the college participated in the Adventure sports organized by IMF West Zone Climbing Committee, Pune from 24.10.14 to 31.10.14 .
5. Ku. Mahima Patidar B.Sc. I Sem student was selected for state level kho-kho and played in Jabalpur from 27 and 28 October 2014.
Activities in September 2014
1. Marshal Art classes were organized in the college from 01.09.14 to 30.09.14. Chief Supdt. Mr. Mushatq Ahmed and Mr. Ajay Mishra conducted the classes and trained 85 students.
2. Students of the college participated in the District level 'Cross-Country' competition held on 10.09.14 organized at Rajiv Gandhi College .
3. College Basket Ball Team participated in the District level Basket Ball Competition organized by Govt. Hamidia College on 29.09.14 and 30.09.14.
4. College chess team participated in the District level Chess Competition organized at Rajiv Gandhi college from 29.04.14 to 1.10.14.
.
5. On 29.09.14, closing ceremony of Marshall Arts classes was organized in which 155 student presented Marshal Arts. Smt. Aruna Mohan Rao, ADG and Ms. Kiran Lata Ketkatta, AIG were the invited guests for the ceremony.
6. A 'Health and Wellness Centre' is being set-up in the college. Classes on Health and Nutrition, Music for Soul, Yoga and Aerobics will beconducted as per the time table.
Activities in August 2014
1. Chief Superintendent Ms. Mushtak Ahmed and Mushtak khan trained 70 girls for Self-Defence from 1.8.14 to 30.8.14. This program was in organized by Sports Dept. of the college in association with Women Crime Branch, Bhopal .