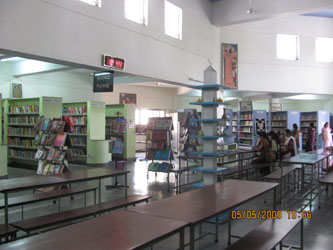 The Library of Sri Sathya Sai College for Women Bhopal serves the primary study and research interests of faculty, staff and students mainly at the Graduate and Postgraduate level. One of Bhopal's foremost academic library, it is a vital contribution to the intellectual and academic search of the scholarly community of the college.
The Library is a huge complex positioned right in the center of the huge college campus in a calm and serene atmosphere, surrounded with lush greenery on all sides. The library currently contains 30506 volumes, primarily ,rare and expensive reference and research collections, especially ,rich in the fields of Education, Commerce, Theology and Religion, Classics, Psychology, Languages and Literature, Political Science, History, Sociology, Physical Science, Biology, Computers and books of general reference in addition ,there are 52 periodicals and magazines. A rare collection of Sri Aurobindo literature adds to the prestige of the library. The library is especially well known for its collection of materials for competitive exams - right from Civil Services to MBA, MCA & IIT-Jee. Books on GRE, GMAT, SAT & TOEFL are also immensely popular. The library subscribes to almost 38 journals - all aptly capable in fulfilling the intellectual, entertainment and informative needs of the students.
With an annual purchasing power of more than five and half lakhs, the Library boasts of an up-to-date collection ,consisting of the latest editions available in the market. The library is also rich because the University Grants Commission, via various five year plans, funds the purchase of good Reference Books and making use of the same, we have purchased the best and rare reference books.
The Library is open to the clientele from 8.30 am to 5.30 pm and remains open on Sundays also. The library consists of two stack rooms and a huge Reading Hall capable of seating 80 students at one time, although ,an additional new complex is nearing completion. Most book - stacks are open to users ,who have valid identification. Students also avail the reference facilities available in large numbers.
Two books per student are issued for a period of one week with an additional re-issue facility of one week to the students at graduate level. The Research students are issued five books for a longer period. Ex-students are also eligible to enroll in the library on payment of Library fees. Our library is computerized with all house-keeping functions fully operational .Bar-code Scanner is available and Bar-coding has been done . A fully automated library, our library also offers scanning & photo-copying facilities. Internet facility is also available.
The Library, its ambience and collection are so well-known that even students from outside the college desire to refer the Library. This Library is famous as a place where "You ask for it, You will get it." That is the richness of the Library of Sri Sathya Sai College for Women, Bhopal.
Total no.of books in the library : 32,400