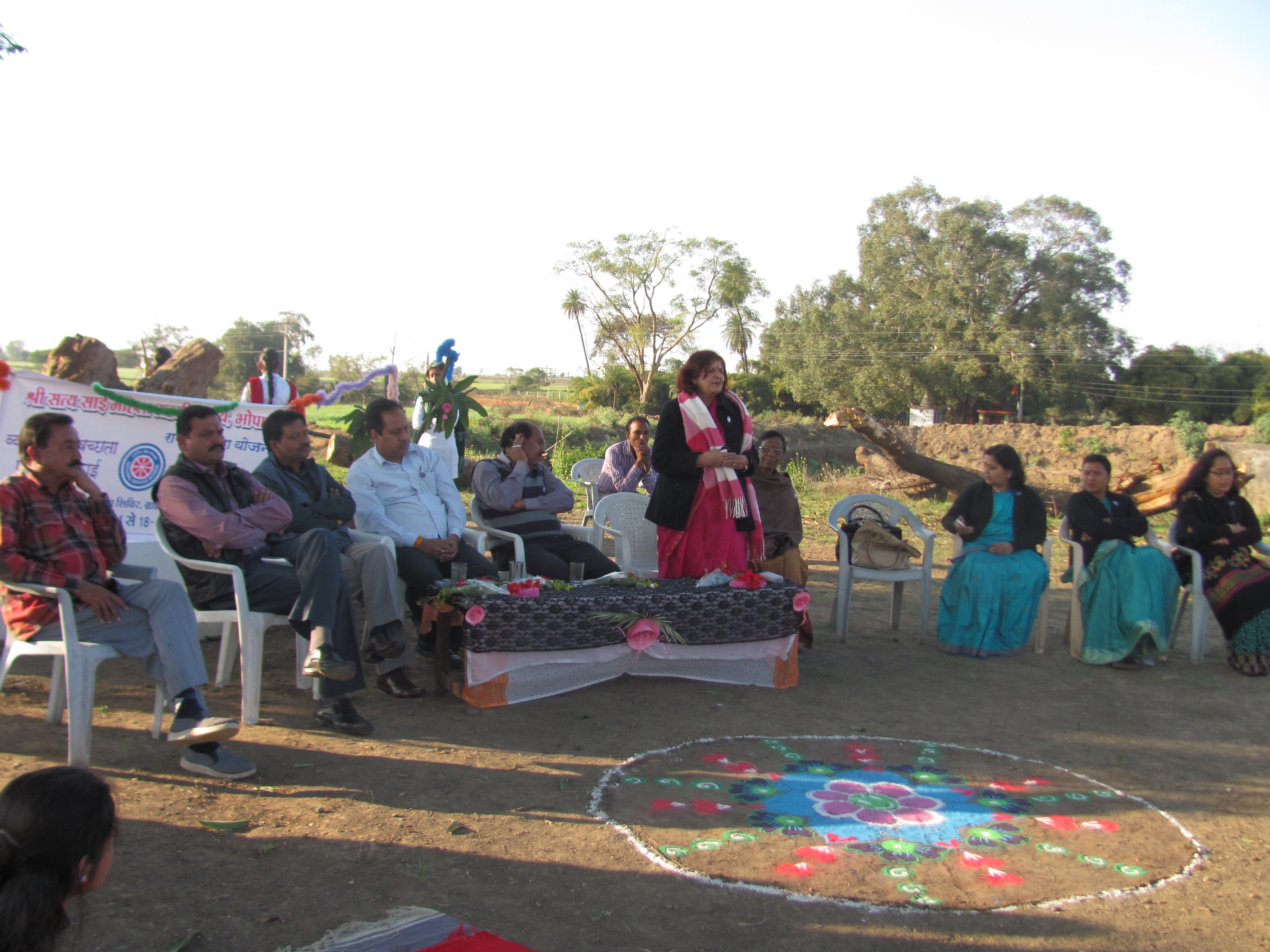 The National Service Scheme (NSS) was started in 1969 with the prime objective of developing the personality of students through community service. It is a medium to bring students in direct contact with community problems, needs and its developmental processes. Dignity of labour and sense of responsibility are inculcated in the students. The NSS was started in 35 universities with forty thousand students. Gradually, the coverage increased to 22 lakh with the passage of time. The motto of NSS is "Not me but you". The objective is to develop the qualities of love, compassion and brotherhood among the students through social service. The scheme utilizes the leisure time of students in programmes aimed at upliftment of slum dwellers, removal of social evils, imparting awareness, protection and healthcare. They are trained for relief and rehabilitation work during natural calamities and national emergencies.
Sri Sathya Sai College for Women, Bhopal started its first unit of NSS with 75 students in the year 1976. Over the years, the participation of students increased. Seeing the overwhelming response and the interest of students in the scheme, Barkatullah University granted permission of opening the second unit in the year 1986-87. Both the units became functional with more than 200 student volunteers. As the performance of the two existing units was very good, in 1998 the third unit was opened. At present, all three units of NSS are actively functioning with more than 300 students.
Objectives of NSS:-
To develop a passion for human values and social justice, among the students.
Emphasize on the all-round development of our students which is facilitated by the participation in NSS.
To activate the students and bring out the best in them and inculcate a spirit of discipline, responsibility and teamwork.
Projects undertaken by NSS Units:-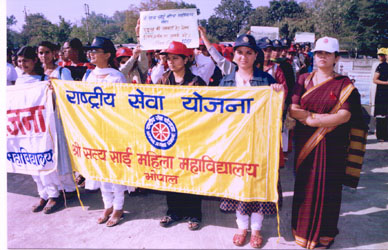 Since the beginning, the major tasks undertaken by the NSS unit, in the institution, are to create awareness among women about their health and hygiene, family planning, child care, their fundamental and legal rights, environmental problems, literacy and tree plantation. The following are some of the important projects and activities undertaken by the NSS units, every year.
Speech, debate and poster competitions to commemorate important events and special days like Anti-Nuclear Weapons Day, World Peace Day, Women's Day, Hindi Divas, National Integration Day etc are organized.
Protection and conservation of environment awareness campaign are carried out through rallies, street plays, speeches, poster and slogan competition. Our students participate enthusiastically in various camps organized by Barkatullah University and in the state and district level "National Integration" camps.
Bhopal is a city of lakes. NSS students in association with Bhoj Wetland took up a project for the conservation of lakes.
Seminars are organized in the college on Environment pollution and Biodiversity, to create awareness.
A workshop on "Best out of waste" was organized and a competition was held with the participation of the students, teachers and even people of the adopted villages.
NSS units are actively involved in health care programmes. Every year, students actively participate in National Pulse Polio Campaign, vaccination of Hepatitis 'B' and Typhoid. The students are trained to create awareness about fatal diseases like AIDS, Cancer and the harmful effects of tobacco chewing and smoking. Students visit hospitals to help and serve the sick. Sometimes, they help in medical check-up of school children conducted by various agencies. NSS volunteers participate in camps regularly and also donate blood from time to time. Eye check-up camps are also organized.
NSS students actively participate in literacy programmes. They visit the adopted slums and educate women and children. They hold various competitions like quiz, rangoli, making of greeting card, mehendi, recitation and even short speech competitions in slum areas.
A ten-day special camp is organized every year in rural areas with the prime objective of creating awareness about health, hygiene, sanitation family planning programmes, healthy lifestyles, cleanliness, saving schemes, women's rights etc. among the villagers. Lectures and plays are organized to propagate the need of education and the ill-effect of consuming liquor and tobacco.
The students are given information of traffic rules and disciplines of the road and other public places.
By interaction with voluntary organization for the mentally challenged children - 'Digdarshika', NSS students are motivated to help such members of the society.
The NSS students are also trained for relief and rehabilitation work during natural calamities and national emergencies.
Sensibility towards the moral values, civic duties and responsibilities is inculcated in the students, through lectures and discourses based on the lives and achievements of great men.
To create a healthy spirit and relation among students, various programmes on 'anti-ragging' are organized at college level. Some of the programmes of choice are 'Nukkad Natak', posters and rallies.
Some of our NSS volunteers also attend state level NSS camps.
Lectures/Seminars are organized on various topics of interest, such as "Healthy Life Style", mental diseases, etc., with the help of eminent personalities; Exhibition on "Best out of Waste", Slogan and Debate competition, Naturopathy camp, Slum area survey, Vaccination Awareness Programme in Slum area, Eye Camp, Literacy Survey etc., are also arranged
NSS Activities Session 2016-17
10/5/16 slogan writing, Poster making competition and Rally was organized under ' Nasha Mukti Abhiyan.'
14/5/16 Dr Rekha Bhatt delivered lecture on 'Awareness of Voting ' under 'Rashtriya Nirvachan Namavali ka shudhikaran Ahiyan'.
15/5/16 Ms. komal Singh participated in NIC 7 days camp organized at Jaipur, Rajasthan .
9/8/16 NSS students participated in Blood Donation Camp & patriotic song competition under ' Yada Karo Kurbani 'progamme organized at Barkatullah university .
10/8/16 NSS Introduction Program for Students registered in NSS for session 2016-17.
10/8/2016 Computer workshop organized under 'Rashtriya Nirvachan Namavali ka shudhikaran Abhiyan'.
12/8/16 NSS program officers and students were participated in Rally & Program under ' Yada Karo Kurbani 'progamme organized at Barkatullah university .
13/8/16 Tree plantation program with coordination of Mahindra Pvt. Ltd. Under 'Yada Karo Kurbani progamme'.
17/8/16 organized poster Making & Essay writing competition under 'Yada Karo Kurbani progamme.'
24/8/16 NSS program officer & students were attended workshop on 'Digital India ' at Barkatullah university.
15/9/16 Organized 3 days workshop on ' Dhyan avam Sadhana ' under ' Heart fullness Meditation program'.
19/9/16 Two days camp of B C L L to provide Mahapour Smart Card Facility.
24/9/16 organized various program like poster competition , slogan writing , patriotic song competition , Tree plantation & Shramdaan to give Tribute to Shahid.
26/9/16 organized rally on the occasion of NSS Day, motive of the rally was ' swasthya avam swachhata ' .
2/10/16 three NSS volunteers were participated in university level Pre R D Camp .
3/10/16 organized three days workshop on Art & Craft.
8/10/16 NSS volunteers were participated in Traffic Wardan workshop organized at university.
14/10/16 Participated in Inauguration Ceremony of Shaurya Smarka by respected P M Shri. Narendra Modi .
14/10/16 Komal Singh & Priyanka Raghuwanshi participated in ten days Pre R. D. camp organized at university.
3/11/16 organized extempore competition on the occasion of ' Rashtriya Ekata Divas'.
NSS Volunteers participated in program organized in Barkatullah university on the occasion of Sadbhavna Divas.
9/11/16 NSS Volunteers participated in Youth Exchange program organized at Sant. Hirdaram Girls College with coordination of Nehru Yuva Kendra & NSS.
14/11/16 NSS Volunteers participated in 10 days Health checkup camp organized by FPAI .
25/11/16 NSS Volunteers participated in 'Digital Banking Awareness ' training program organized at Burkatullah university.
26/11/16 NSS Volunteers participated in State level launching of 'Digital Banking Awareness ' program at CM house.
28/11/16 NSS program officers attended district level NSS meeting at collectorate .
29/11/16 NSS volunteers participated in Health camp organized by FPAI.
30/11/16 NSS volunteers Attended peer training of Women Empowerment laws Related to women.
4/12/16 participated in Run Bhopal Run event.
5/12/16 NSS officers & volunteers participated in ' krushak prashikshn program' at Jambooree ground.
19/12/16 organized cashless transaction workshop for college staff & students at college Campus.
7/1/17 organized Dental Checkup Camp in coordination with Bhabha College of Dental sciences , Bhopal at college campus.
12/1/17 Suryanamskar at college campus.
14/1/17 on the occasin of ' 28th Sadak Suraksha Saptah ' NSS Volunteers aware common people about traffic rules at Board Office square & New market square.
16/1/17 NSS officer & volunteers participated in Mega Event related to Voting awareness organized by district election officer at T. T Nagar Stadium
17/1/17 NSS officer & volunteers participated in program on ' youth & AIDS ' at Samanvay Bhavan on the occasion of 'International Yuva Saptah ' .
19/1/17 organized Traffic awareness workshop at college campus in coordination with 'Traffic road safety petrol' at college campus.
24/1/2017 organized workshop on 'Digital Banking & cashless transaction ' in coordination with SBI for students at college campus.
25/1/17 organized workshop on 'Eco friendly Bag Making ' in coordination with Dept. of Computer Sc. & Appl. for students at college campus.
27/1/17 to 2/2/17 NSS special Camp at village Rapadiya.
9/2/17 organized Varli Art Workshop & wall painting in college campus under 'Swachha Bhart Abhiyan' .
15/2/17 organized regular classes for C certificate exam.
1/3/17 4 NSS volunteesr participated selection process for state level camp.
3/3/2017 2 NSS volunteers participated in state level camp organized at village Mahadra , Rahali Dist. Sagar.
22/3/2017 NSS volunteers participated in workshop on ' Self Employment for Girls' at SAM Engineering college Bhopal.
27/3/17 NSS volunteers participated in Narmada Seva Yatra.
27/3/17 to 2/4/17 NSS volunteers participated in District level Camp at Bairasiya.
26/3/17 NSS Volunteers conduct 'Family Planning Program ' Organized By FPAI at Hotel Palash.
15/4/17 Organized B Certificate Exam at college campus.
24/5/17 NSS officers & Volunteers participated in program ' Madhya Pradesh me Narmada ke Dono Tat Vraksharopan ka Mahan Abhiyan Hetu Pangiyan ke Liye Website ka Lokarpan' under Narmada Seva Mission at CM House.